Inspired by the memory of the classic Xinhua Café years ago that introduced the concept of late night cafés to Lahorites, X2 Pan Asian Dining recently opened Café X2. Situated away from the maddening crowds of the Liberty Market, well into the back streets of the relatively quiet Gulberg area, the café is a subsidiary of the main restaurant.
Café X2 is split into three rooms while the first two are strictly non-smoking booths, each lending certain uniqueness to the place with multimedia accessibility and availability of wi-fi and LED screens. The third room is dedicated for the aficionados of cigars.
The two-way, glass projection screen is an added feature which leads to the beautiful courtyard, an extension of the main restaurant which is now covered and a proud host to many cultural gatherings including musical performances, book reading and other activities aimed specifically for the youth.
A perfect eating spot for casual dining, the café has the potential to become the choicest venue for both savoury and sweet specialties.
A group of four of us went to try their well thought out, extensive menu made up of delicious pizzas, burgers, fresh salads, succulent seafood, chicken dishes and other treats in store. We started by ordering buffalo chicken wings and garlic bread that tasted just right being freshly baked.
We were later told by the owner that the salads are served gluten-free. One must taste the café's special salad which is as fresh as one can get. It consists of a variety of greens with cashew nuts slightly drizzled over with fresh raspberry vinaigrette and warm goat cheese. One gets a zesty taste that lingers on for a long time.
Caprese and classic chicken salads are also available and include parmesan cheese, iceberg and homemade croutons.
One must taste X2's special salad which is as fresh as it gets. It consists of a variety of greens with cashew nuts slightly drizzled over with fresh raspberry vinaigrette and warm goat cheese.
The dining experience in an intimate space is a spot-on idea for hosting large gatherings or just a meal for two. The menu is lip-smacking and you will immediately want to have a flavour of everything that you read briefly about on the list, till the food arrives piping hot from the chef's pan.
Highly recommended is chicken ravioli. This one is stuffed with smoked chicken in oregano and white sauce. We tasted Thai basil chicken with just the right amount of seasonings while beef lasagna is a sureshot classic item for all meat lovers with its extra dose of cheese, mushrooms, creamy béchamel and tomato sauce.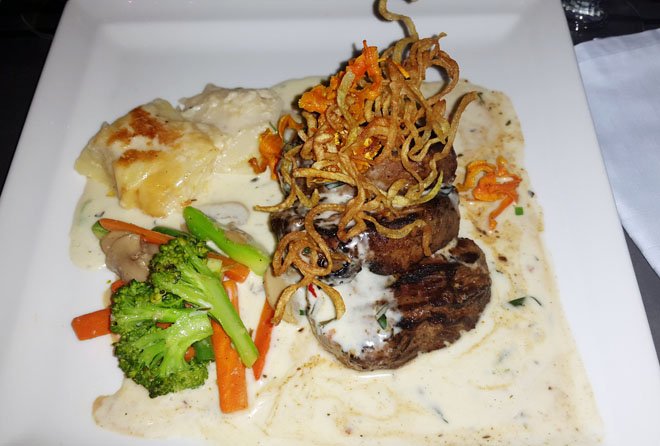 The hearty fillings of the main entrees couldn't deter us from trying their offerings from the all-day brunch consisting of omelettes, waffles and pancakes. People looking for late lunch can readily head out to the café to try their wide range of cheese and spicy omelettes and French toasts.
Then we moved on to the ice cream shakes and hot drinks consisting of mocha latte, decaf espressos and cappuccinos. Suffice to say, the desserts are mouth watering as we tried their bread pudding with caramel sauce, walnut tart with vanilla ice cream that became one of our favourite and a slice of New York cream cheesecake while we sat there and enjoyed the goings-on of the premises.
The café hours are between 11:30am-2am from Thursday to Saturday while they finish off at 1am on the rest of the days. You can book space for corporate meetings, fashion shows, seminars or family partying. Presently, the purpose-built stage at their patio is being used for musical performances for free only to promote cultural activities.