Those who are into Pakistani pop music ought to be familiar with the "Jaswal brothers," the eldest of whom, Yasir Jaswal, is also a screenwriter and filmmaker (last work: Jalebi), and, now, a food entrepreneur. Following the success of his burger joint, Jessie's, in Islamabad, where the Jaswals are based, Yasir recently opened its branch on MM Alam Road, Lahore.
There's an interesting back story to Jessie's. In the words of Yasir, "I love food as well as cooking, and every time I had a chance to host my friends at home, I'd cook them my own 'specialties.' Gradually, prompted by [their] words of praise, I got into the [food] business."
Quite evidently, Yasir isn't scared of the fierce competition his food joint is to face. Come to think of it, Jessie's has been set up merely a few blocks away from Howdy!, a favourite with the youth. And, there's enough reason for him to be so confident: the place not only looks attractive, it also offers a lot on the menu.
Jessie's has a particularly young and contemporary vibe to it, judging from the wall art, which is the first thing I noticed. I was told that it's done in mixed medium by a fresh graduate from National College of Arts (NCA), Lahore.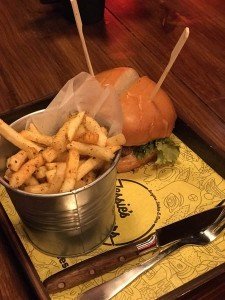 You can't also miss the red lighting in the area coupled with the bright-yellow roof, the low-hung shades, tiled floors, wooden chairs, and an open seating area upstairs. It's clear that the place has been designed to appeal to the post-millennials.
On the chef's recommendation, I ordered honey-mustard wings and tangy chicken tenders. I went attentively through the menu before the starters arrived, and noticed that Jessie's offer a menu for kids too. Then there are the "Specials" that feature steaks and a variety of shakes and cool drinks.
The honey mustard wings were a revelation. Marinated, this has to be a must-try item on your list.
At Jessie's, everything is sourced daily, claims the owner. Each sauce that goes into the burgers is freshly prepared, which enhances the taste of food.
I moved on to order the much-hyped burger 'The Big Kahuna,' the messy mushroom, and the sliders that are meant for those who are game for chicken, cheese, and beef rolled in one.
The Big Kahuna lived up to its name with a 70z prime beef topped with a layer of cheddar cheese, onion rings, and dollops of in-house sauces. The light drizzle of kahuna sauce does wonders to the flavour. I was served the burger with hot, crispy fries in a cute, little tin bucket but the serving was large enough.
The messy mushroom was topped with mozzarella cheese and, as the name suggests, had plenty of the vegetable in a slightly toasted bun and a juicy patty.
Defying one of my own new year resolutions, I picked up a delectable combination of two beef patties placed in a bun and a smokey, primento cheese dip. Let me tell you, even if you're not a burger fan, this one would convert you any day!
The flavours really merge well, as the Jessie's departs from conventional fried patty stuffing and experiments with light, crumbly buns, with nutritious toppings and dips. By the way, their prices are competitive and fall in the range of Rs550 to Rs750. But the taste is authentic and definitely lives up to all the hype.