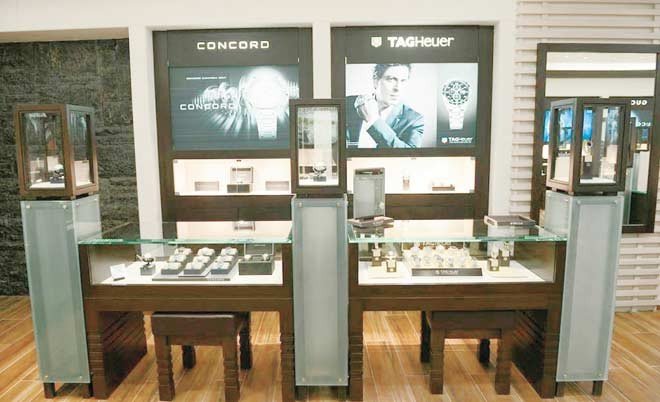 To the delight of the fashion-conscious Lahori buyers, another shopping plaza Central Avenue has opened its doors at the farthest end of Noor Jahan Road near Hussain Chowk, and first things first – it has ample parking space, which is always a plus for denizens of the metropolitan heart of Punjab! More importantly, Central Avenue gives you an all-under-one roof option for apparel buying, making it the best new option to try when one is out to pick up clothing, footwear and luxury accessories.
In Central Avenue, two big names from Karachi meet Lahore in a launch that brings the best from the port city to the desi environs of the Punjab capital. Renowned footwear brand English Boot House and LifeStyle Collection, a leading multi-label brand offering the best in world-famous watches, eyewear and men's accessories, make their first stamp in the Lahori landscape, while sharing a roof with the quite ubiquitous Bonanza, the leader in men's apparel, which is now gradually diversifying into women's wear, and is opening its seventh outlet in Lahore now. The new shopping destination was launched amid a festive affair including a glittering gathering of socialites, models, fashion designers and other media personalities and a not-to be-missed fashion showcase of models exhibiting different products from all three brands and a tour of the new stores in the shopping plaza.
Buyers in Pakistan are no strangers to foreign fashion brands. The World Wide Web has made us aware of every Versace and Dior luxury item available, and improvements in the infrastructure of the retail sector, such as the proliferation of new shopping malls and the subsequent influx of international brands, has helped to develop the local market, boosting consumer demand for high-quality products.
Over the years, Bonanza has earned praise for its quick understanding of the market, aesthetics with mass appeal and serving up new collections every summer and winter. With the recent boom in shopping destinations and accessibility of designer wear, Bonanza's newest venture will no doubt raise the bar for the brand which is already an old, trusted name. The well-stocked customer-friendly store boasts of a pristine white interior with one section meant exclusively for women's wear and the rest is an entire men's domain stocked to the brim. The complete range of dress shirts, cufflinks, shalwar kameez suits for men from their 'Jewel' line and the in-house 'Satrangi' range in ladies clothing gelled in with prices hovering between 3,000 to 4,500 rupees.  The burgeoning ready-to-wear market is the current big thing in the retail world. With changing needs and moving trends, Bonanza expects to make significant inroads in the ready-to-wear industry, particularly in women's wear under brand 'Satrangi'. They have ambitious plans to expand the retail outreach of 'Satrangi' by opening exclusive stores of the brand in the near future and make the brand more accessible to their international consumers.
Creating prêt-friendly separates including kurtas that are wearable and affordable, the brand is motivated to 'provide their customers with the complete range of products at the same high quality,' said Bonanza CEO Hanif Bilwani. 'We also plan to introduce new innovative products in the near future, starting with a line of wrinkle-free stitched lawn kurtis, which will be available in Pakistan for the very first time from March onwards. "We cater to the diverse fashion needs of all consumers – from young professionals to retired gentlemen, from businessmen to the modern Pakistani women – hence our pieces reflect timelessness infused with fashion,' said Komal , Marketing and Media Manager of Bonanza.
One steps into the lavishly done up LifeStyle Collection's  new store and is instantly awed at the sleek and sophisticated look of the space divided into sections with well-lit interiors, stone hinges and glossy glass tops, inviting everyone to peep into the huge display of celebrated watches, eye wear and other men accessories. It is quite the hub for designer accessories, for it displays the largest collection of watches and glasses; one saw names such as Cartier, Baume & Mercier, Movada, Frederique Constant, Bvlgari, Tiffany & Co., Guess, Rayban, Oakley, Tag Heuer, Prada, Gucci and the list goes on. The Swiss-made watches are at the rear of the store and one feels like one is entering into another zone to glimpse a spectacular variety promising their patrons authentic branded timepieces with personalized services. 'After establishing our brand in Karachi and Islamabad, we look forward to our new store in Lahore and endeavour to provide the same high level of services that the consumers expect of us,' informed CEO Saeed Saleh Muhammad.
The prices start from 10,000 rupees onwards for an elegant pair of branded glasses that make an immediate fashion statement; the cool shades from Versace, Blvgari, D&G and others available in various styles are hard to ignore. It seemed like the shaded beige and gold framed shades and aviator style sunglasses were the hot favorites for the women in attendance, who seemed pretty engrossed in trying out a perfect pick. Definitely a haven for the fashionistas, the store will be a popular destination and is bound to get in many walk-in customers who would have an option of garnering bargains during various promotions and sales. It provides one the pleasure of being part of an ultimate fashion experience when stores such as Central Avenue stock such coveted brands that gives shopping a totally luxurious feel. The plethora of counterfeit products currently in the market has dampened consumer confidence. With the newly established Lahore store, the consumers will be able to enjoy genuine products at competitive prices in a wide array of brands.
English Boot House from Karachi is another exciting brand all set to cater to the sophisticated customer base of the city, complete with its own variety of footwear for men and women. One finds everything from sandals, peep-toes, wedges, heels to formal evening wear. 'The overwhelming interest and response by our Lahore-based patrons alone, as evident from online orders through our website and Facebook page, compelled us to introduce our brand in this city,' said EBH CEO Kamil Mian. However, their growth in Lahore will be largely determined through factors including quality, price and service. 'Our Lahore patrons will not find us lacking in these three areas and can look forward to having us meet and exceed their expectations through our 70-year experience in the footwear industry,' promised the CEO who also intends to penetrate into the markets of larger cities of Pakistan in the years to come.