interior
You! takes a look at the interior of a uniquely designed stationery store in Lahore…
Step out of the house and you will find many clothing stores and restaurants with a beautiful and exquisite decor. However, can you think of a single stationery store that has left you in awe because of its innovative interior? We bet not! Well, recently, a stationery shop with a funky interior has opened its door in Lahore.
The store we are speaking of is Paper Clip; a stationery aficionado's paradise. Yes, the place not only looks good but has a comfortable environment too. The two-storey store has been designed with woodwork and a simplified parametric design ceiling. The interior of the store has only one purpose; to create a cozy environment so that the customers feel relaxed while browsing around the place.
Inside the premises, one is immediately attracted to the knick knacks neatly placed on the shelves. The multi-purpose stationery store is not limited to Moleskine, Staedtler, Parker Pens, Stickoo, Shah Sons, and Picasso, they offer gift wrapping services, school text books, and uniforms as well.
The interior is different in respect of lighting, structure, colour and placement of furniture. The window installations of the store are beautiful to look at from outside since they have been made from newsprints offering the theme of the month. The design has been taken a step further by creating a special place for children with a vibrant layout on the second floor. One can also spot school essentials, art giveaways and curriculum books. Other pieces include wall-mounted display racks and locally sourced flooring tiles. Kiddy stools are dotted around the space so that the children can sit and read as they choose their favourite item.
Sounds like an interesting place doesn't it? The innovative store is the brainchild of two partners who were already into the stationery services; Syed Hasnain Ali and Dr Badar Tauqeer who have been regularly attending fairs in Germany and were impressed by the big stationery names and thought of bringing these to Pakistan. "We found out that a lot of people have stopped going to the stationery shops because they wouldn't find the right thing and the experience was not satisfactory," shares Dr Tauqeer.
"We have a huge market here and very few good options when it comes to providing art, as well as office and school supplies. We have started off from Lahore while the expansion of the brand is on the cards too. We intend to partner with the corporate sector by managing their monthly stationery supplies. The eventual idea is to make it scalable and take it up as a franchise model to spread in 12 cities across Pakistan," explains Syed Hasnain Ali.
The interior of the store is done by Saad Sarfraz Ahmed who is known for projects including Engro, Shaukat Khanum hospital and Nestle. Regarding this venture, Saad says, "This project is very close to my heart. I grew up on stationery. The biggest and most creative projects started with a pencil and paper. People see this as stationery, whereas I see this as the canvas where we design the possibilities. For me this was not just a stationery store, this was a store where the future will be designed. So, I thought, why not make it exciting (as opposed to the current boring stores). I believe that this design can change the way we experience this kind of space."
The shop-cum-retail space has zigzags across its roof, done in order to create angles and shapes which give a very hybrid perspective. When you walk up the wooden staircase the screens show educational videos from the suppliers.
"Investigative techniques of special exploration have been performed to create the design philosophy. Various design principles have been brought together in harmony which has resulted in a simplistic, geometric and a modular design. A uniform lighting pattern has also been developed throughout the space to further enhance the user's experience," explains Saad.
About the idea of the store, Dr Tauqeer informs, "Paper Clip has been designed keeping in mind all the stationery requirements of an individual. We currently have over 70 brands on our panel, and foresee this number growing even more. The touch and feel factors are essential when buying stationery rather than everything being locked under the shelves. So, getting it over the counter was important to recreate that experience here. At our store customers can write with the pens before buying them. Also, we have kept the budget of our customers in mind hence the pricing of the products are quite nominal."
"We are offering an assortment of material for architects and fine arts students as these products are not found everywhere. The architects for instance require Balsa wood, bleach boards and liners which are not available on the racks but one can choose these articles on our website and we will have them delivered," states Dr. Tauqeer.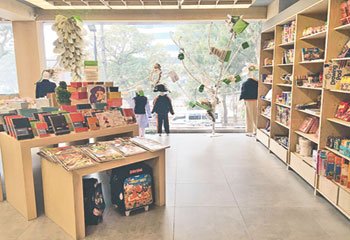 The Moleskine journal is generating great response from the customers as it is the first retail store to officially stock them in Pakistan. Along with that; the locally created in-house envelopes and invitation cards made by floral society artists are quite a rage among buyers. Moreover, the digital print and gift wrapping station offers a wonderful space like an insta-print where one can get customised birthday cards, mugs, file folders, bookmarks and boxes.
"Seeing people smile for stationery is a satisfying feeling," conclude the owners.