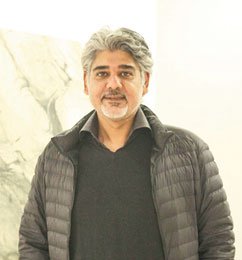 This week You! peeks into the contemporary interior of a design house by Omer Nabi based in Lahore. Read on…
It was in the year 2000 that furniture designer Omer Nabi launched a bespoke design house in the historical city, Lahore. Initially the design house followed the trend of wrought iron furnishings that was quite the rage back then, but after some time they started focusing on clean, modern, straight line furniture and interiors with minimalistic undertones. Yes, we are talking about 'Studio O'. Omer Nabi closed down his previous store, and recently, he has launched his brand new flagship store 'Studio O', which is a unique three-storied studio at Maratab Ali Road, Gulberg. The space evokes a casual yet a polished feel, which is soft and invigorating, with colour thrown in through a lively product display. Their design philosophy revolves around creating contemporary, classic, elegant spaces for the clients.
Spread on seven and a half thousand square feet with three floors, the gigantic space features a clean and contemporary interior that is appropriate to the structure it occupies. There is a lucidity and balance in the selection of materials and colours, and the choice of furnishings adds to the design aesthetics. "We took up the services of Omar Hassan for architectural guidance who designed the structure while I did the detailing. The imposing concrete structure that has the brand name on top is also designed by me. The concept was to use concrete, rusted iron and wood painted in grey or white," says Omer Nabi.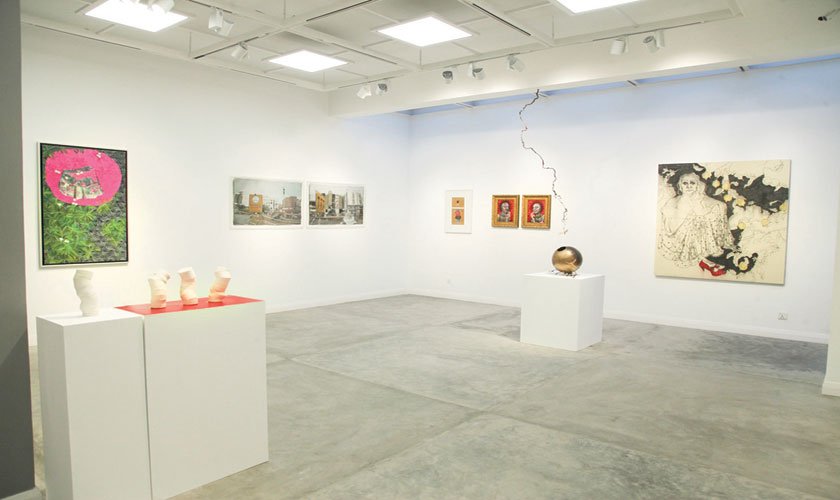 The green patch connects to the front entrance, providing the space with a continuous natural lighting. As soon as you enter the store, you will notice the concrete flooring in cement paste and intricate detailing. From the flooring tiles, to the staircase; from niches holding artsy products plants to the large centre tables, recliners, sofa sets and some stunning decorative items; it is a place where visitors can spend hours going through each product and take in the environs by looking, feeling and touching the products.
Much emphasis has been put on the architecture, furniture and lighting fixtures. Here one would find furniture made of fabric with choices of colours and textures, consoles, shelves and cabinets. Be it contemporary, traditional, artistic, modern or quirky, there is a wide variety available. This is not all! Studio-O has also launched concrete accessories by 'MAS Architects' that work with architecture, interior design, graphics, custom products and furniture. "Each project is driven by specificities of site and circumstance, which not only ensure that every design is unique and customized, but is also grounded in the experience of time, space, light and texture. We stress a lot on conceptual development," explains Ayesha Sarfraz co founder, MAS.
Identifying lighting as the essential element in any spatial experience, 'NO. 9' has created its own collection of lighting and lamps for the studio. The collection is eclectic with subtle overtones and a neutral palette. The materials are wood, metal and stone with gold and silver leaf accents, hand carved and gilded surfaces catch and reflect or absorb and diffuse light.
One of the motivating concepts for the brand was to create a welcoming, bright, comfortable space for its customers with good prices and excellent customer service. The rooftop boasts of a deck with a log fire in the centre surrounded by benches. The elevated space has a kitchen garden where Nabi grows his favourite vegetables.
Speaking about his studio Omer Nabi states, "The studio is a labour of my love that I started around 16 years ago but I have always wanted to create a space which culminates and celebrates creativity. So, we had this purposely built space that not only celebrates my work but also of five young talented designers. It's a launching pad for them also. Then we have put in the art gallery with the name of O Art Space, to make it all connected for the art connoisseurs. O Art Space exhibits the artworks of contemporary Pakistani artists – old and new – from time to time."
Also, the talented designer has a craft art reach programme as they want to promote crafts of the country which is dying and no one is doing anything about it. "We have sourced from Kashmir, Kalaash Valley, Taxila and plan to cover other regions as well in the future. It's a one step forward for us. From Kalaash, we have picked up a sculpture maker whose work is phenomenal and unique and probably the only person in the area doing figurines with such finesse. He is handicapped so we are trying to set up an institute for him where he can teach other artisans and empower themselves to learn the craft so that this work lives on. We're trying to celebrate the local culture, although it's extremely difficult to bring the work from Kalaash with all the logistics involved," he informs.
With this studio, Omer wants the people in Lahore to experience the potential of design in its fullest. "We do interiors as well. In fact, a bulk of our furniture pieces come out of the interior spaces. I use local wood mostly but some pieces are venire based. Our mission is to provide an inspiring space for designer and artists alike, so that they further develop their creative skills," he concludes.