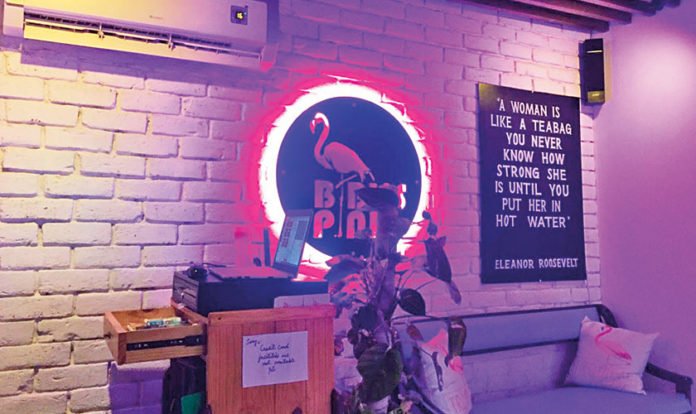 interior
While good food and great customer service are crucial for s restaurant's business, the ambiance really sets the stage for a customer's dining experience. Having worked 25 years in the army and enjoying every moment, Col Sabahat Idris aka Bibi is living her dream and trying to provide an opportunity to women like herself. "I came across this saying 'people who give you food give you their heart' while I was in the army, posted away from my home and kids; and I would yearn for our family meals together. I think that is when the seed of opening a cosy eatery took root in my heart," shares Sabahat.
Ensconced in a relatively quieter (read: calmer) side of DHA Lahore, this new eatery is already making ripples across food aficionados. "I trained my staff to provide personalised care to my guests which I thought was lacking at most of the places. For me it's always been rewarding to put nourishing food on the table for my family and friends," she adds.
As you climb up a few steps, you'll start getting the vibe of the place – a perfect melange of an intelligently curated menu and artistically designed premises. With low hung paintings, catchy slogans, brick walls, lots of plants and vibrant furniture encompassing the space, 'Bibi's Pink' sets out to be more than just a restaurant. What started as a pursuit for culinary passion became a vision to change the narrative on gender stereotyping in a male-dominated industry.
"It was my vision supported, strengthened and encouraged by my husband and my four sons. I worked on the concept and complete interior, civil works and menu development. My cousin (and business partner) Dr Aliya put in endless hours of implementation and training of menu to a female chef who had just started her career in culinary art. We worked very hard since we were learning and developing at the same time. My leadership skills are due to my background in army and Aliya's passion for culinary art bore fruit as we finally opened our most revered project to date," she explains.
Bibi has books, board games and a comfortable seating with an open rooftop area and a skylight, along with a lot of natural light and plants. Architect Ahmed Khan, CEO at AK Design, tried to keep it simple, elegant and welcoming to all age groups. Regarding the inspiration of the design, he informs, "The inspiration behind designing this place was to provide a sense of comfort and warmth throughout the space. When a person inhabits it, it should feel like they are in their own personal living space consuming their comfort food. I used a blend of modern and classical materials and placed them in a fashion that gives a soothing and comfortable effect."
Khan also believes that when designing a restaurant, one has to keep in mind the smallest of details as the interior design impacts customer psychology. It prompts them to order more or less, and even impacts the duration of their stay in the restaurant. "Elements of residential and commercial design are incorporated with vintage furniture items. There has been a use traditional and modern method of construction to have natural textures of the materials so that people of Lahore can relate with their heritage but in a contemporary way. I designed it as it was my own restaurant. It was like a dream project to me as I had full command in its design and philosophy. This was mainly due to an endless support from my client for all my crazy concepts and ideas. And, this would have never been this interesting if Dr Sabahat did not have such a strong aesthetic sense," tells Khan.
Calling all gourmands, this place is where good food meets art, where conversations would flow and it would be all about people coming together. The quote by Eleanor Roosevelt in the restaurant entrance is so true and so powerful which says, 'a woman is like a teabag you never know how strong she is until you put her in hot water'. Likewise, the paintings by a known artist, hailing from a small town near Lahore, don't add up the colour yet they send a very strong signal of female empowerment. "Like most people I have gone through many challenges and I would proudly say that a lot of the detail and artwork in the restaurant have been collected over various periods in my life. There is pretty much a story behind each piece showing the diversity of a woman's character," highlights Sabahat.
As a testament to the dedication to female empowerment the restaurant aims to donate a portion of its profit towards female education in Pakistan. "I have always felt strongly about women empowerment, part of my dream was to employ mostly women, to provide them with a safe work place to bring out the best in them. One of my waitresses is a young girl who was a national level hockey player and had to quit her game and studies. Proud that she is now pursuing her education and enjoying her work and the atmosphere we have cultivated for guests and staff," she enthuses.
In the middle of the busy city, the restaurant has one of the largest outdoor sitting area with an enclosed environment. So if you are sitting in its outdoor space, it is planned in such a way that the customer will be disconnected with what is happening outside on the roads and will start interacting with the ambience of the space. "In a nutshell, diners leave with two things: an unforgettable dining experience and a renewed awareness for women empowerment in Pakistan. I know the latter might sound like a lot to put on people who are simply out to have good food but a portion of the profit will go towards female education which is the best thing to do," concludes Khan.