The focus at L'ateliar is making you feel good
At the time, when Sadaf and Ahsan were living in Paris and getting inspired by the Parisian attitude towards fashion and shopping which was all about the 'experience', Zahra was marketing Pakistani designers abroad and Sarah already had an established client base for her brand, 'Sarah Raza'. It was Sadaf's marketing expertise, Ahsan's finance background, Zahra's sales skills and Sarah's fashion know-how that made all the sense in combining the team's collective experiences to provide an indulgent shopping experience offering great choices; with a desire to create a boutique that the foursome themselves would want to shop in. Very soon, L'ateliar came into being. 'It's been a roller coaster ride for us,' Sadaf gushes and is thrilled to be an important part of the bandwagon ever since its inception about four years ago in Islamabad.
"We have expanded the L'atelier umbrella from one flagship store in Islamabad to another one in Lahore as well as an online store, a salon, our in-house label 'SR @ L'atelier' and a sub store 'Under 15k @ L'atelier', Sadaf explains, 'Retail is a dynamic field and it's been a lot of fun pushing ourselves to deliver more for our clientele. We wanted a place filled with independent labels, such as Daaman and more recently Triumph, and both well-established and upcoming designers presenting inimitable yet wearable items the clients would cherish and love sporting – somewhere they could browse to their heart's desire, where the atmosphere was comfortable and welcoming.'  This year they have launched many brands at L'atelier and as part of their new sub store launch, under 15K, stocking Simply Sublime, Nida Azwer and Wardah Saleem which gives an instant wow factor.
A busy 2014 is in store for the group that is promoting their collaboration with Shehrbano Taseer's Sunday Times by offering 10% off to their readers through a code system which basically deducts a certain percentage on the total bill when the customer checks out after making a purchase. Keen on promoting their e-store which delivers orders around the world within three days, they have retained the prices and charge on delivery as per according to the location. However, Zahra admits that Pakistani websites are still not trusted by the people so they have chalked out a strategy in dealing with this issue. An on-line chat system has been introduced to educate the international customer and tries to placate their queries if any regarding fabric, workmanship and alteration facility for an outfit.
'We have put up designer profiles and pictures on the sites so that the client who is unfamiliar with the name of the designer can read about its background or if he or she has been part of any fashion week, because this information solidifies the reputation of the designer abroad,' explains Zahra. Customer relationship is of immense importance and holds the key for the team at L'atelier and they are willing to take many steps forward to achieve complete satisfaction of the buyer. In this regard they have introduced customized fittings rather than the usual small, medium and large measurements and also provide three-piece ensembles to women who prefer the dupatta suits and not the separates that we are now so accustomed into buying. 'Our sale staff is trained to identify the loyal customers, their choice of designers and the special guests of the store are given personalized care while selecting their purchase; moreover their special days are noted for preferential pampering,' she said.
Zahra's marketing skills have really uplifted the brand above standard fare and recently they have initiated personalized loyalty cards of the brand for the entire Lahore Gymkhana members. "The members are able to avail the offers advertised on our website," she discloses. L'atelier is already an established identity in the capital but they have yet to make a mark in the cultural capital city.  "We came at a very good time in Islamabad when there was only Melange in competition and the private, secluded place at F-8 quickly became a must go-to boutique and an ideal location for the Isloo ladies who prefer shopping in peaceful surroundings," explains Zahra. Converted into a Parisian influenced interior the racks boast of name from Misha Lakhani, Muse and the hot selling Unbeatable from Karachi.
'Both Islamabad and Lahore are great markets to cater to and we find a large proportion of working women in Islamabad hence a high demand for casual and work clothes while in Lahore our formal outfits are the bestsellers'. The women in Islamabad value quality, design and comfort when it comes to her wardrobe while the ladies in Lahore prefer drama, glamour and lots of pizzazz. That is why HSY, Waseem Noor and the very popular Tena Durrani from Karachi did absolutely great. 'She brings reasonably priced samples of bridals and heavy formals hovering between 90,000-two lac rupees and takes orders from the ever-enthusiastic and receptive Lahori clientele,' Zahra reveals. Jewellery display by the famous Shafaq Habib in Islamabad and the recent arrival of international brand of western wear and accessories from all over the world, Cleo is also doing a good business.
There is a strong focus on undergarments at the store, with Triumph being launched there in January, making it a haven for the potential buyers who have to depend on a trip abroad to get their hands on the lingerie. Well, now Triumph will take care of their needs and that too with the most impressive range of silk undies, plush knits, super-soft bras and beaded night gowns, you'll find some of the best variety in night wear. The launch in the last week of January welcomed the arrival of a popular brand that hopefully won't fizzle out like its predecessor La Senza.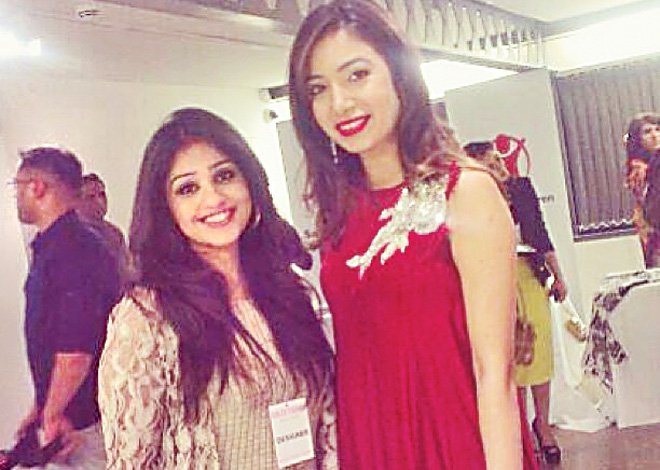 Every accessory including footwear and trendy clutches displayed at the top level at the store are carefully selected to provide the best styles to the market. Shopping for costume jewelry and designer outfits can be an overwhelming experience but the aim is to de-stress the client by offering inspired customer services, expert knowledge and traditional sincerity so that shopping can actually be a jolly-good experience. 'We pride ourselves on our professionalism, product selection and services,' all said in unison and are very hands on in making sure that every little detail has been attended to. 'Our clients love the variety of clothes on offer so we make sure that the most renowned houses of fashion as well as coveted upcoming brands are covered at our store.' L'atelier ensured that at least one third of the brands totally new to the city were introduced at the launch in the Lahore studio.
The client's feedback has resulted in introducing an efficient alteration service, rewarding loyalty programme and complimentary services under one roof such as the salon. 'Designers often get surprised when they learn about our stocking criteria as it's quite stringent. We make sure we see the full collection before hand and review the price points to ensure our clients will consider it value for money. We stock most of the top brands in the country but at the same time we like to promote new talent and have organized a dedicated area in store for them.  We like to keep a hand on the pulse of the market and bring things to our store before anyone else.' Their own eponymous in-house brand SR by Sara Raza who is a former PIFD graduate presents a contemporary ready-to-wear collection with a strong attention on separates including tunics, pants and shirts priced lower than 7,000 rupees that makes it an economical buy. One saw lounge wear including a mix of kaftans and exercise suits on display as the group is keenly studying the market trend so that they increase the production if the demand is there.
Under 15k launch as a sub store within L'atelier, displaying multiple brands, where every product, be it casual wear, formal wear or accessories, is guaranteed to be less than Rs.15,000. 'We have noticed an increasing number of young professionals and students, who want to invest in a great wardrobe but within a budget; this space gives them the opportunity to choose the designs that best appeal to their aesthetic sense without worrying about the price tag. The stocking criteria for this sub store are equally as stringent as the rest of L'atelier, so the quality is guaranteed; the price is the cherry on the cake.'
A modernized woman finds a combination of beautiful clothes in a chic environment and with the group's earnest instincts fashioned a boutique that was more of a glossy magazine than a clothes shop – somewhere to uncover new ideas, styles and contemporary designers. 'Pakistan has a lot of talented people and it's very exciting to be a part of and play our role in this burgeoning industry. We want to show the world not only how skilled Pakistani designers are but also how well dressed Pakistani ladies are. We want to be the leaders in providing a platform for coveted upcoming labels alongside established brands and are very proud of the many designers we have launched which have grown to have international presence such as Sonar and Sara Shahid,'
'Our clients are ladies who recognize how you dress is a big part of your personal brand and they care about how they present themselves to the world. They cannot be defined by their background or income category but by their attitude to personal style.' This year promises to be very exciting for fashion and one big trend that they predict is the 'tribal influence.' One should expect to see tribal printed tights, lawn prints and even capes during the season. 'More people will dare to wear the shorter silhouette and we'll start seeing a lot more shape on the legs, say yes to skinny trousers, cigarette pants and metallic tights. Forget pastels, the future looks bright. Opt for corals, metallic blues and bright yellows instead. We even expect more modern prints from the lawn season. While if you prefer a more classic approach, don't worry, lucknow kurtas, rilli work and layering will complement your style well. For those that prefer a feminine look, lace, crochet and net is not going anywhere,' forecasts the very stylish Zahra and Sadaf Raza.