The fashion scene of Lahore is becoming busier. Apart from PFDC's The Boulevard – which stays in the news because of the fashion weeks hosted by the Pakistan Fashion Design Council –  Ensemble and Labels, major fashion multi-label stores from Karachi that stock designers from both cities as well as India, also operate in the city. And now there is Fashion Central, a fairly new arrival on the scene that opened earlier this year at Fortune Mall, which is  famous for housing Butler's Cafe near Hussain Chowk, Liberty. The brainchild of Shoaeb Shams, Fashion Central was a website fo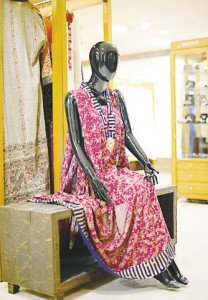 Here you will find Fahad Hussayn, Munib Nawaz, Aisha Imran, Imbias and some 30 other  designer labels from Karachi, Lahore and India. Encapsulating a broad selection of designers also means a reasonably priced variety along with maximum choice. Fashion has huge potential and taking it to another level are the sort of people who are interested in investing for customers'  convenience and the 'everything under one roof' concept. Ready-to-wear has taken the world by storm and we are no exception. Fashion is no longer an elitist game – manufacturing in mass production to suit everyone's budget has become the order of the day. Just ask Sana Safinaz, Sania Maskatiya and above all Khaadi.
Move aside the big names; Ensemble, PFDC and Labels will always have an exclusivity meant to cater to high-end glitterati that can afford to dole out money without thinking twice but there is something for everyone at the L`Atelier, Fashion Pakistan Lounge (even though it's no longer associated with the Fashion Pakistan Council), Tehxeeb and the recently opened Fashion Central. A look inside store and one is awed at the sheer hugeness of the place. It seems obvious that the owner wants to turn it into a full-fledge fashion house with enough space for display. "Through the launch of our multi-label store and e-store services, we envision our unique platform becoming a hub that caters to the needs of every fashion consumer," says Shoaeb Shams.
The simultaneous launch of an e-store is sure to resonate with the potential buyer community abroad by providing clothing at the same prices locally available in Pakistan to international destinations. It's an idea that is already being used by Labels to maximum advantage and even for Fashion Central it will surely attract customers who usually have to pay three time more to get these clothes abroad. Moreover fashion enthusiasts can keep themselves abreast with the latest trends in the style industry through the brand's popular online fashion portal. Even buyers in Lahore can check out what's available online and if they see something they like can venture out to the store to try it on.
Separates with prices hovering around 5,000-7,000 rupees are primarily for the girls-on-the go and for anyone looking for a distinctive look on a day out with friends.
The glass cases on the side showcase jewelry by five designers and front racks at the entrance brim with numerous kurtas and shalwar kameez suits from Munib Nawaz, Fahad Hussayn, Nabeel and Aqeel and others to attract male buyers. The men wouldn't miss the chance of getting their hands on contemporary designed ensembles in prices ranging from 3,000-6,000 rupees for a complete suit absolutely perfect
for the wedding season or grab something stylish with a dash of funkiness.
The store also features space for the work of students of PIFD, which is a groundbreaking development primarily creating opportunities for the newer lot. The artisanal products with an ethnic stamp on them stood out for being one-of-a kind lending a unique character to each and every outfit. There are hand-work designs, patch work of embroidery in cross-stitch and Sindhi rilli work that will inspire anyone to look different.
Indeed, Fashion Central is an idea that shows that fashion is on the rise over and above the usual suspects at fashion weeks and there are plenty of designers raring to go and try their luck in a growing market. Check them out at Fashion Central.