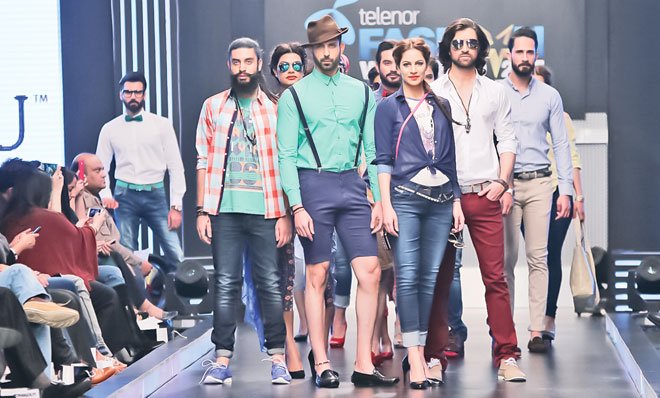 Telenor Fashion Weekend (TFW), held recently in Lahore, allowed retail brands to put out their latest collections during the two-day showcase organized by the Hum Network. The organizers called it 'a showcase of the most innovative fashion labels and brands in the country' but that line was more than a little far-fetched. The participating labels included the likes of Hang Ten, Forestblu, Urban Culture, Rang Ja, Breakout, Outfitters and Raj at Yas and the line-up was more commercially viable mass retail than fashion forward high street.
Instep gives you a lowdown of the highs and lows as seen at TFW.
The Highs:
Punctuality
The card stated that the show would start at 7:30pm and by 7:40pm on both days, models were making their way down the runway. It is not often that we see a fashion presentation that is so well organized in terms of promptness and discipline. A lot of people were not expecting such punctuality and reached the venue 'fashionably late' only to discover that they had missed half the show. Shahnaz Ramzi, GM PR and Publications Hum TV Network, cited Lahore's PFDC L'Oreal Bridal Week as the cautionary tale that ensured her show ran like clockwork. "Late starts and too many breaks in between mean that fashion shows in Lahore are often notoriously late-night affairs. We wanted to make sure that the last show finished at a decent hour," she shared.
Visibility
Hum Network has drawn a distinctive map for itself and evolved a shrewd marketing policy. Their fashion extravaganzas receive maximum airtime, which is an added attraction for the brands to participate in the events. "Everyone needs publicity – the bigger the brand, the more it strives to spend on marketing and promotions," said Shanaz. This is a win-win situation for the network as well as the label, especially in the case of newbies looking for a break into the retail market.
The PIFD show
The highlight of TFW was undoubtedly the graduate show of the Pakistan Institute of Fashion Design. It was a delight to see budding designers put out collections that were at par, if not better, than some of the established brands showing during the event. The PIFD segment featured capsule collections by eight selected graduates and was a step in the right direction.
Consistency despite
criticism
Despite receiving criticism over the lack of quality, the Hum network's bi-annual fashion weeks – one for pret and one for bridal couture – have become regular features in the social calendar over the last few years. The Telenor Fashion Weekend is the beginning of what is sure to become an annual tradition. If for nothing else, one has to laud the organizers for their consistency and hope that experience will also teach them a few valuable lessons about image and quality.
The Lows:
A selection criterion that lacked credibility
Fashion weeks led by fashion councils follow a strict policy when it comes to selecting designers who will be chosen to show under their umbrella. TFW, on the other hand, allowed anyone who was willing to pay the participation fee a chance to showcase. One feels that the event, which is now a regular, would really benefit with a little attention to quality. It may never achieve the standard of the council-led fashion weeks, but that doesn't mean in can't find a tasteful balance.
Lackluster content
Any event that's notably lacking in originality cannot be called fashion and that remains the biggest drawback of the network's event. The fifteen retailers on board fielded collections that might sell in shops but are not runway material. There were a few sparks of glamour here and there, but overall the collections towed a safe, commercial and yawn-inducing line. Outfitters, ChenOne, BreakOut, Hang Ten, Harmony, Forestblu are all mass retail brands that sell well but if the objective was to showcase high street brands, then why didn't we see COCO by Zara Shajahan, MK Nation by Karma or for that matter Daaman? Shanaz puts it down to availability factor. 'Telenor wanted to do a prêtwear event and we approached everyone. Those whose lines were ready and were available to show were included in the line-up; we didn't exclude any particular brand."
No new trends forecast for Spring/Summer
One of the most exciting things about fashion shows is that they help style aficionados predict the future of seasonal looks and styles. There was no trendsetting here. A well-established brand like Rang Ja may have allowed some kind of creativity but overall, the clothes were not groundbreaking and they offered nothing new or innovative.
The absence of A-list celebrities
Did we get to see the stars, celebs, socialites or the usual glammed up frow-ers that provide as much fodder for talk as what is seen on the runway? The answer is a disappointing 'no'. The television network has enough clout within the entertainment industry to pull in the big guns and has been known to do so in most of its previous events. BCW, for example, might not hold the promise of delectable couture but it does provide a strong dose of entertainment. TFW sadly offered no headline grabbers or gimmickry, on or off the runway.