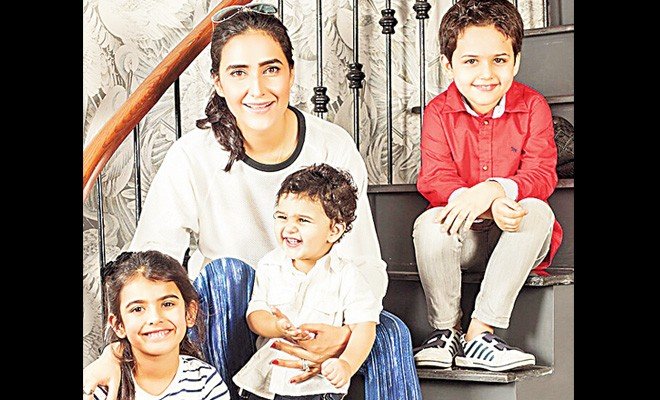 Ammara Khan made her runway debut only last year with an opulent bridal collection that became the fancy of many a socialite. However, the designer has been creating couture for over a decade now for a niche clientele with a penchant for unconventional, contemporary wedding formals. At a time when most designers give in to the demands for commercialized, wearable fashion, Ammara has not let go of her unique aesthetics that involve a mix of modern silhouettes and distinct, traditional embellishments. However, the road to success has not come easy to Ammara who has time and again faced criticism for her fashion week outings – the designs are pretty but fail at making a fashion statement.
That said, Ammara is determined to keep moving forward and continue pursuing her passion. But, for now, what interests us is how she manages to keep herself in shape, in spite of her busy schedule which includes not just managing her growing business but also a family and her two young boys. When most women would just give up on a positive body image and constant self-checking at the hands of responsibility, Ammara remains one of the fittest moms in the industry. Instep catches up with Ammara to learn more on how to get rid of the post-pregnancy fat and maintain a healthy lifestyle:
Instep: How did you got back in shape after having a baby?
Ammara Khan: Well the first time round I didn't find it hard to get back into shape. I had already taken a year off from work so I was able to be a really 'hands on' mom. It also gave me the time to make it to the gym after 6 months of my first son's birth.
Instep: What were the biggest challenges you faced in trying to get your old body back?
AK: As I said before, the first time around it wasn't hard at all and I made it back to my original size pretty soon but it was hard with my second child who came at a time when there were big changes taking place in my life. We had decided to relocate to Lahore after seven years of being away, so settling back in, and having a second baby with a business that needed my focused attention made me feel exhausted. I wasn't able to take out time for myself. It took a lot longer to get back into shape and I'm still not feeling a hundred percent.
Instep: What three tips can you give expecting women on getting back into shape?
AK: My first tip would be to never rush into it. Give your body at least six months, to a year, to get back into shape and recover from post-baby mode. One can easily push boundaries with hard work and determination so stop worrying if you'd ever be able to get back into those jeans. Also, lay low on carbohydrates and never forget to have lots of low-fat milk. It keeps you full and provides your body with much-needed calcium.
Instep: What was that one thing that worked for you?
AK: It took me a while to realize that I had a kid and then a second kid and to be honest I just stopped feeling hungry. The first few months of motherhood are almost always overwhelming.
Instep: Any specific diet or exercise regime that you follow?
AK: Nothing in particular but I have promised myself to make 2016 a year of attaining physical and spiritual self betterment. I eat anything and everything and I hate to confess this but I am a big fan of chocolate. I need to have something sweet every single day. I enjoy leafy greens a lot and cannot live without my ideal dish of rice and curry.
Instep: Do you believe in the latest fads of boot camps and lean fit programs that pitch all-carb diets as the perfect answer to all our dietary problems?
I have followed a high-protein Dukan diet program for a while last year and that surely got the pounds down but these programs I feel are not long-term solutions. One must lead a healthy life which means eating well every single day, having multi-vitamins and looking after your body by listening to it.
I feel my body signals when it's time to take it easy. Every single thing you eat and drink plays a part in how good you feel, and it shows on your face, too. It's important to feel strong and energetic. And exercising to one's own limits helps with that. Exercising and improving one's muscle tone is what keeps the weight off even when one can't stop eating.