Pantene Hum Bridal Couture Week '17 ended with a bang!
Always high on glamour, the 15th edition of Bridal Couture Week held in Lahore displayed haute couture from budding and established designers allowing the audience to view the collections upfront and close.
BCW is a game changer for many designers now and the reason for this goes to a perfectly executed HUM TV initiative which has been consistent in holding the show on regular basis more so, for the value added towards Hum TV's air time given to the show, which has developed into the prime source of fashion and lifestyle for television audiences in Pakistan. At the end of it this is a win-win situation for everyone.
Despite, so many advantages fashion is going through transition and back to back fashion events for the past so many years are losing out on the steam; hence the anticipation is less hurried.
The big question here is if it is wiser to hold so many shows during the year that it begins to lose it charm and isn't the quality on the runway compromised? Seriously, fashion cannot be called inventive if it's notably lacking in originality.
Here's a rundown of the three day extravaganza:
An organized affair
Kudos to the in-house PR team at the Hum Network that the media was given prompt information including images and details of the show well in advance. The effective communication worked as a strategy hence there was no confusion or glitches.
 'A lot improvement was noticed in the show production; the BCW team was very well coordinated. Let's all keep the good work coming,' said Asifa of Asifa and Nabeel while talking to Spotlight.
It is not many times that we see a fashion presentation that is so very well organized in terms of promptness and time bar. Although, the event is prone to tardiness and often start off late owing to too many breaks in between the shows but they made sure that the last show finished at a decent hour this year.
Redefining makeup and hair styling
Renowned stylist, Nabila and her team out did themselves in coming up with eclectic makeup looks, Cleopatra influenced eyes, accessorized hair pieces served as the perfect found love between fashion, style and make up. The glitter packed shimmery eyes did all the magic on the ramp. While the looks achieved by the masterful techniques were edgy and distinctive.
Collections were a 'mixed bag'
It is always heartening and reassuring to observe new trends being introduced on the runway that would announce the future of seasonal looks and styles. Yet, there was no feeling of 'fashion forwardness' here except for smartly balanced and cohesive collections shown by Fahad Husayn, Ali Xeeshan, Asifa and Nabeel, Erum Khan, Zonia Anwaar, Maheen Taseer and a notable few that allowed some kind of creativity to unleash.
They managed to create collections with emphasis on minutest detailing; the clothes were about concise construction, paired with the right choice of fabric and color palette.
These labels took a brave move and gave a twist to the traditional look on the ramp. Proving their versatility they came up with interesting cuts, shapes and color combinations from the color palette based on nudes, beiges, dusty golds and retro chic for men but there was nothing new in the silhouettes for the current wedding season which is a bummer.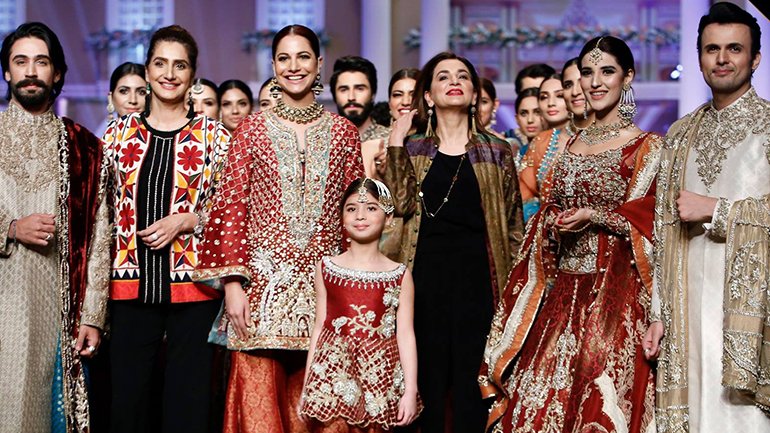 A-list celebrities on the red carpet
We are always 'spoilt for choice' when it comes to having a plethora of celebs on the runway. True to its name, PHBCW is famous for adding a bevy of stars to grace the runway with an illustrious list of showstoppers, and power-packed performances, this year was no different.
Film star Shaan Shahid, Uzma Hassan and Mohib Mirza opened the show for Fahad Hussayn while Bilal Abbas walked the ramp for Humayun Alamgir with a special performance by Wali Hamid Khan.
Ahmed Ali and Mahen ur Hader show-stopped for Aisha Imran, whereas the O' Rungreza star Sajal Aly and the stunning Aima Baig added allure to MNR's collection. Singing sensation Zoe Viccaji raised the entertainment quotient of the show with her upbeat performance while rising singer and actor Haroon Shahid performed in the Classic 15 segment. Qurat-ul- Ain Baloch show-stopped for Zonia Anwaar, while the multi-talented Saba Qamar for Umsha by Uzma Babar and Kubra Khan show-stopped for designer duo Asifa & Nabeel, while Soch the Band performed for the brand.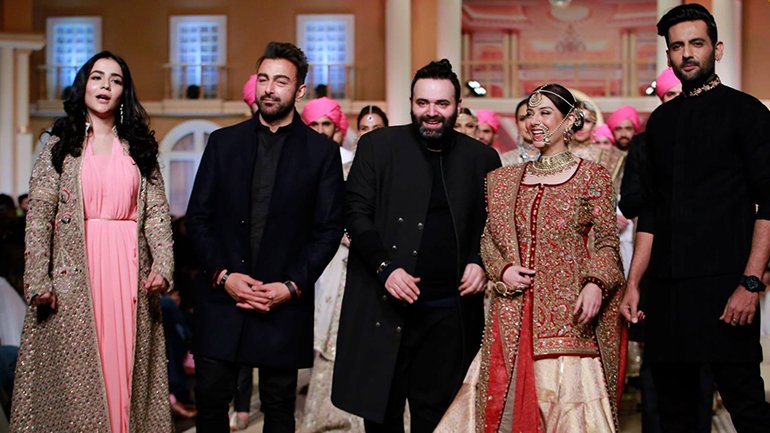 The amazing Hareem Farooq, Usman Mukhtar and the witty Ali Rehman walked for Nickie Nina. Ushna Shah added allure to MGT's collection, whereas Ali Noor walked for Munib Nawaz. Uzma Khan and singing sensation Asim Azhar opened the show for Amina Yasmeen by Mansoor Akram and Ahsan Khan walked the ramp for Edenrobe.
The rising stars Iqra Aziz, Yumna Zaidi, Zara Noor Abbas, Asad Siddiqui, Sami Khan and Affan Waheed show-stopped for Aisha Farid. Minal Khan show-stopped for Erum Khan, whereas Aiman Khan for Chinyere's collection. Nimra Khan graced the runway for Demesne and the couture king HSY show-stopped for Royal Tag. Last but not least, the gorgeous, Mawra Hocane concluded the day for Lajwanti.
Glamour on the red-carpet
The red carpet is so much more than a costume drama party; much to the our disappointment we didn't see much happening there as if a sense of fatigue had set in. However, the main highlight of the red carpet space was the beautifully set-up see through glass floor lounge, where guests were seen capturing moments on their phones.
Despite criticism on the lack of quality; Bridal Couture Week has become the favorite choice of leading and upcoming designers to showcase their collections.
The consistency is remarkable and being regular also gives it an added advantage and value over one-time wonders. Fashion success demands consistent efforts of many years just the way PFDC has made it, this platform will surely one day build on their image of doing fashion in a serious way.