weddings
Like your wedding, you want your dress to be unique. You also want to know the hottest trends in bridal wear. According to fashion experts less is no longer more. Opulence, elegance and glamour are the buzz, so beads, crystals, diamantes and intricate embroideries add drama and sparkle to this season's wedding attires. The most popular bridal wear for young brides are usually lehengas, heavily embellished kurta sets and saris. For cocktail wear, one can opt for corsets teamed with fitted lehengas jazzed up with Swarovski crystals and sequins.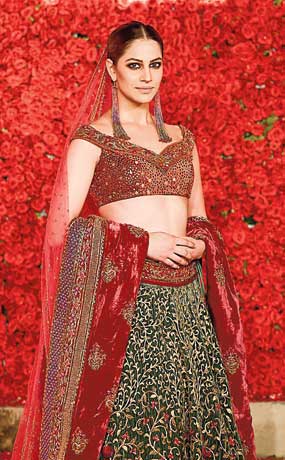 Bridal trends:
When it comes to wedding trends, they are centred around bold and bright hues and few pastel colour schemes. Vibrant red, bold turquoise, bright greens as well as bright yellow and peach tones are also some of the top colour trends for the 2016 wedding season. Elegant and classy is back in style. Modern brides these days favour costumes with more drama. From heavily embellished wedding dresses to sleek, minimal embroideries in subtle hues, to blush-coloured confections, to classic silhouettes splashed with intricate zardozi work.
Keeping the latest bridal trends in mind, Diva'ni – fashion house – showcased its coveted Couture 2016 Bridal Collection, 'Bagh-e-Bahar', against the backdrop of the historic city of Lahore at Haveli Barood Khana, recently. Sultry and bold, it was a bridal extravaganza with the collection painstakingly crafted across 300 days by 1000 artists with more than 10 million stitches, 'Bagh-e-Bahar' managed to bring back the classic Mughal era. Head turner, Mahira Khan walked for the label as the most sought after fashionista and, gave us major fashion goals with the way she carried a heavy bridal jora and made it look like her own.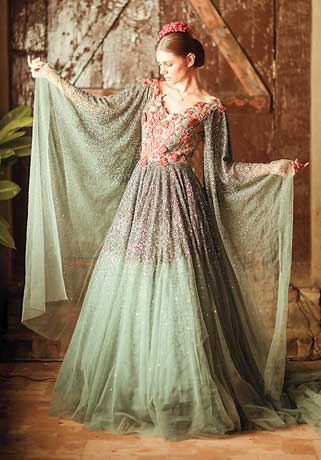 Bridal looks:
Modern day bride is now ready to evolve and go beyond shades of red, deep pink and antique gold. Colours like aqua blue and green are now popping up to be really hot trends this season. Once again smokey eyes and false eyelashes will be continuing to make an appearance at weddings this year; however, expect to see some softer colours used on the eyes.
At the show, makeup was kept minimal to let the clothes do all the talking offsetting with jewellery for an added panache. The trends marked the seasonal change while setting the perfect mood for hair and makeup inspiration for your wedding day. From soft dewy skin to natural makeup and centre parting, we witnessed  styles in bridal beauty and the way models at Mehreen Syed, Cybil, Neha and others  carried this all-natural eye-catching look.
Hair and makeup by team N-Pro/Nabilas, as always did a great job by providing their expertise. In keeping with the theme an ethnic, traditional look was created to match the glory of the ensembles. Gelled back buns with centre parting was the mainstay hair trend; it was made visually attractive by adding a bunch of red roses put together as hair accessory signifying the theme of 'Bagh-e-Bahar'.
The magnificent show:
It was Diva'ni's debut show in Lahore attended by the likes of designer Kamiar Rokni, Ali Xeeshan, Saira of Saira Shakira, Nickie Nina, Munib Nawaz along with Mahgul and Shiza Hassan along with others from fashion's A-list.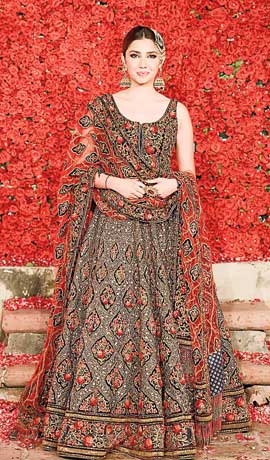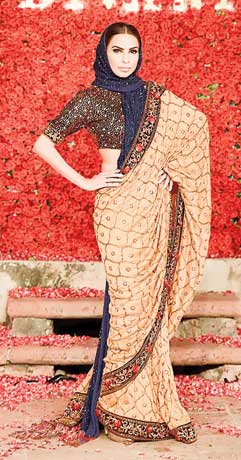 Down the dusty, narrow streets of inner Lahore is the significant Haveli where the magnificent set up was experienced on the night with the most breathtaking decor that one imagines in a land far, far away – it was enough to attract the who's who of Lahore and they came with all their might. Taking ones breath away on the first glance were the wilted crushed red roses, live music played by the musicians near the entrance. Yet it was the lingering 'Rose Affect' that left many in awe.
The evening was opened with a live performance by the maestro Ustad Rahat Fateh Ali Khan which was followed by an interactive 360 bridal showcase spread over the Haveli featuring ensembles from 'Bagh-e-Bahar'. If on the one hand Diva'ni presented a mosaic inspired by world architecture, it was then juxtaposed against ancient Persian garden motifs, all brought together by the signature vintage rose motif across fabrics hand-woven with sheer intricacy.
Creative director Diva'ni Saniya Dhir from India and local partner Shakil Zandani were present there and looked visibly proud. While calling the collection 'dramatic' and 'opulent' which Raj productions are all about Dhir reiterated that the collection matched the setting and questioned how could the clothes not be?
"Bagh-e-Bahar' celebrates the sheer majesty and richness of the Sub Continent's shared heritage and historic legacy. Every ensemble has been crafted as a masterpiece where each silhouette recites poetry of a bygone era and each hue has been plucked from the canvases of historic art. We are delighted to introduce 'Bagh-e-Bahar' in Lahore," said Saniya Dhir.